TBB featured in Project Indie (& more!)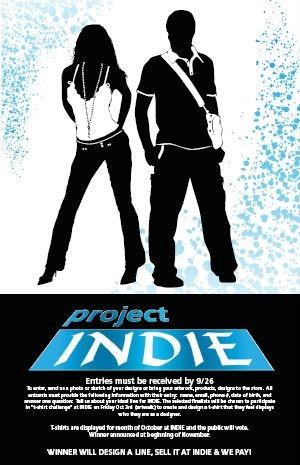 Well, we've got some fun and exciting news to share with everyone!
1. The Beautifully Broken had it's official radio debut on Springfield, Missouri's Q102.1 FM on Shadow's "Homegrown/15 Minutes of Fame" show!
2. TBB has been chosen to be one of the five, final musicals acts for Indie Boutique's "Project Indie"! This year, Project Indie will pair five local fashion designers with five local bands. The designers will then create a completely original and hand-made t-shirt for the band during a competition a la "Project Runway" style during downtown Springfield's 1st Friday Artwalk, October 2, 2009.
The winning designer gets to create his/her own fashion line to be sold and promoted by Indie Boutique; the band paired with the winning designer gets to headline a Q 102.1 FM Homegrown show!
We are so stoked and super proud to have been chosen to participate in this! We LOVE fashion, and are excited to see what our designer comes up with!
3. TBB has a special little treat for you all coming up very soon! We are going to be shooting our first MUSIC VIDEO!!!! It's going to be a small, simple little affair; but we have high hopes for it! 🙂 So, keep checking in on us to see the finished product!
4. To all of our Iowa friends, we will be performing in your state very soon! We'll update you all here as well as on Myspace.com; so, don't worry, we won't let you miss out!
In the meantime, if you live around the Springfield/Branson, Missouri area, make sure you check out Shadow and all of the fab DJ's on Q 102.1 FM and Indie Boutique (210 E. Walnut, Springfield) for rockin' music and totally kickin' one-of-a-kind clothing items!
Thanks for stopping by; we love you guys!
Blessings,
The Beautifully Broken
*mandie-michaela-whitney*