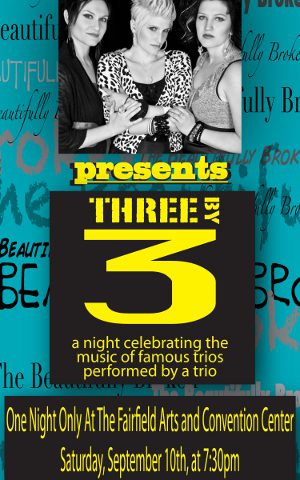 http://www.fairfieldacc.com/events/the-beautifully-broken-2011-09-10.html The Beautifully Broken will be performing in their hometown of Fairfield, IA for one night only at the fabulous Sondheim Center – 7:30 p.m. Saturday, September 10th, 2011! The show is called "Three by 3" and will celebrate the music of famous trios like the Bee Gees, Hanson, Destiny's Child, the Ronettes, Lady Antebellum, […]
Armed with fiercely catchy melodies, tight harmonies, and lyrics laden with equal parts wit and sarcasm, the all-sister indie, pop-rock band The Beautifully Broken® has officially released their self-titled, first, full-length album (June 2009).
The sisters (Mandie, Michaela, and Whitney) fought through three studios and two long years to create the 10 tracks included on their eclectic freshman offering; coming out on the other side with a new zeal for creating music, embarking on a sophomore follow-up with a focus on created and found instruments and a more pop-y, ambiant sound that's sure to thrill!
Inspired by a wide variety of musical artists and genres, TBB sites Michael Jackson, Bjork, Imogen Heap, Dolly Parton, Hanson, My Chemical Romance, Heart, and The Beatles as their biggest influences. Their broad sense of musicality has lead to a unique sound that has been described as "pop music with a true rock sensibility". The band, however, prefers to remain free of labels and as "ambiguous" (and even "genre-less") as possible. Their wish is to use their music to break through creativity-stifling conventions such as genres and stereotypes, instead focusing on what they consider "good music and songs" which they believe transcend time, age, place, genre, and radio-plays.
Named an "Artist to Watch" by Our Stage and Taxi.com, The Beautifully Broken® is on the brink of "something bigger". The girls will begin their first round of small-stage shows in the fall and winter of 2009/10 in their native Iowa and throughout other mid-west cities, branching out from there between recording sessions and other creative projects to bring their special brand rock-infused pop to a venue near you!
The Beautifully Broken will kick you in the face, and make you love them for it!
You guys really have some of the most beautiful sounds and messages to your fans. Completely amazing, you ladies rock & I can't wait to hear for some upcoming tour dates. . .
Exceptional job ladies. Sounds absolutely amazing and can't wait to see you out gigging!
Catchy hooks...right on target...8 out of 10!
The new songs are great - I really love Breakdown! That's my kind of slow jam.
Previous
Next
Awesome!! Awesome!! Awesome!! The new songs sound great!! Keep up the good work!
Smokin'! You guys rock. So much talent. You are and will be blessed.
You three are fantastic.. I love listening to your music...
What up girls? great sound!!
Can I just say that every time I listen to your music, I am in awe!
Previous
Next